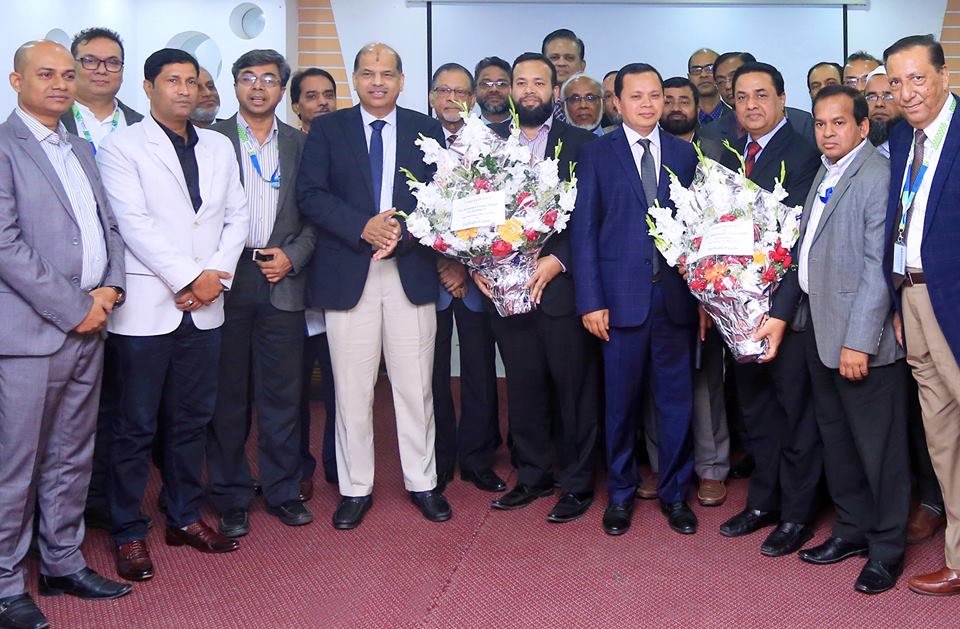 New CEO and COO of Daffodil Family
Mr. Mohammad Nuruzzaman has been appointed as the new Chief Executive Officer and Mohamed Emran Hossain has been appointed as Chief Operating Officer of Daffodil Family. This was officially announced by Dr. Md. Sabur Khan, Chairman of Daffodil Family today on December 23, 2017 at a grand reception program held at Banquet Hall of Daffodil Tower. The function was also addressed by Professor Dr. Yousuf M Islam, Vice Chancellor, Professor Dr. Mostafa Kamal, Dean, Permanent Campus, Professor Golam Maowla Choudhury, Professor Dr. Syed Akter Hossain, Head, Department of Computer Science and Engineering and Syed Mizanur Rahman Razu, Director of Student Affairs, Mahabub Parvez, Head, Department of Tourism and Hospitality Management of Daffodil International University,
Mohammad Nuruzzaman started his career as the only trainer of training section of Daffodil Computers Ltd. in 1996. In 1997 he established Daffodil Institute of IT with the affiliation from NCC Education, UK and took the responsibility of Training Coordinator. At present , he has been serving as the Executive Director of Daffodil Education Network which is collective organization, formed by the educational ventures of Daffodil Family. Beside this, he form Bangladesh Software Testing Board and played an active role to get membership of International Software Testing Qualification Board ( ISTQB) and he has been representing Bangladesh in ISTQB since 2006. During his long profession life he visited 31 countries to attend different conferences, seminars, symposium and business meeting.
Mr. Mohammad Nuruzzaman completed his graduation from University of Dhaka and obtained Master degree from Statistical Research and Training Institute of the same university. He also obtained MBA on MIS .
Mr. Mohamed Emran Hossain started his career with a multi-disciplinary consulting firm: Divine Associates Ltd. as Director in 2001. He has been serving Daffodil International University since its inception in 2002 as well as he is one of the members of Board of Trustees of the university. Mr. Emran is also a Director of Daffodil Computers Ltd., a public listed company in the DSE and CSE. He is highly skilled in the area of higher education management & quality assurance, internationalization, organizational management, training, designing donor funded project & implementation.
Mr. Emran Hossain has completed his graduation and Masters in International Relations from University of Dhaka. Besides, he received Masters Degree in Management of Development from ITC-ILO & Turin University, Italy. To lead the education system as well as the development process of the university, Mr. Hossain attended more than 50 international training, workshop, seminars and conferences around the world. To be a balanced leader in higher education he has a good number of memberships in different national and international professional organization such as BCS, EAIE, ISTQB, INQAAHE etc as well as social organization like Transparency International Bangladesh (TIB), RMMRU, Amnesty International, Rotary Club of Baridhara etc.
Caption: Dr. Md. Sabur Khan, Chairman of Daffodil Family receives Mr. Mohammad Nuruzzaman and Mohamed Emran Hossain newly appointed Chief Executive Officer and Chief Operating Officer of Daffodil Family respectively with floral wreath today at a official ceremony held at Daffodil Tower.