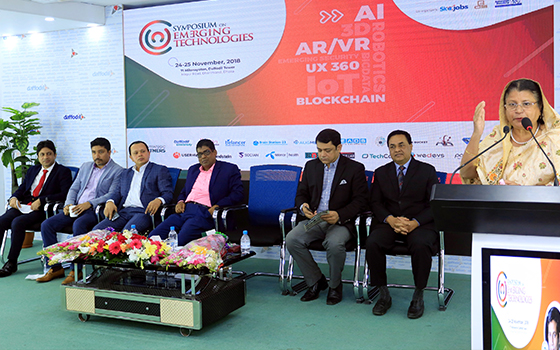 Daffodil International Academy organizes 2-daylong Symposium on Emerging Technologies at Daffodil International University. Ms. Hosne Ara Begum, NDC, Managing Director (Secretary), Bangladesh High Tech Park Authority inaugurated the program as the chief guest today on 24 November, 2018 at 71 Milonayoton of the university. Dr. Md. Sabur Khan, Chairman, Board of Trustees, Daffodil International University, Dr. Hafiz Md. Hasan Babu, Pro Vice Chancellor, National University, President, Bangladesh Computer Society & ISOC, Mr. Shamim Ahsan, Chairman, e-generation, Mr. Syed Almas Kabir, President, Bangladesh Association of Software and Information Services (BASIS) were present at the program as the special guests. Presided over by Mohammad Nuruzzaman, CEO, Daffodil Family, the program was also addressed by Md. Sarowar Hossen Mollah, Deputy Academic Director, Daffodil International Academy.
While addressing as the chief guest Ms. Hosne Ara Begum said that young generation will have to be more skilled in technology. They will have to take the country a head using emerging technology. We should keep development of our country by using technology. Bangladeshi young generation has lots of potentialities and to exploit and utilize these potentialities Government has established High Tech Park. He urged the young generation to gain technological skills and to take the opportunity to work in High Tech Part.
The two days symposium is included with plenary session, seminar, workshop, tech talk etc.